Q. What kind of gear do you use?
I have four guitars: two Washburn Stealth 2STs, one with stock pickups and another with a Peavey pickup in the bridge and a GFS Dream 90 in the neck, a Dean MLX with the Washburn pickup in the bridge and a GFS Dream 90 in the neck, and a Peavey Rotor EXP with a GFS Crusader bridge and GFS Dream 90 neck. I like bolt on necks since they are easier to repair and most are unfinished for faster playability. I sanded the neck on the yellow Washburn to get this feel and also scalloped the 14-22nd frets.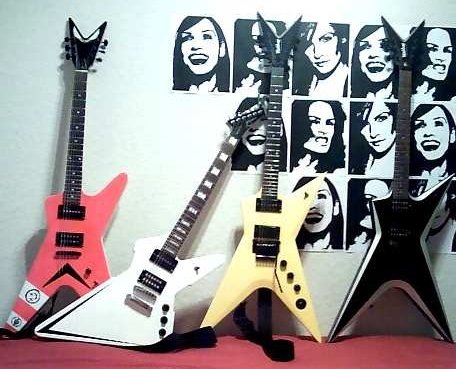 As for my amp I have a Rocktron Voodu Valve into a Carvin TS100 power amp running EL34s into a Hughes and Ketner Attax 4×12 (I don't know what kind of speakers) and a 1×12 I made myself with an Eminence Texas Heat. I have a Fender RT 1000 rack tuner and a BBE 362 Sonic Maximizer in between the  Rocktron and the Carvin.
I use a Line6 UX1 Toneport to record with Ableton Live. Normally I mic up the Texas Heat but I blew the transformer on the Carvin so will be recording direct until it is repaired (Note: I HATE direct tone). I also have a Roland Micro Cube which is awesome.
Q. Who are your influences?
I think i can do this by year:
2005: Green Day, CKY, The Misfits, Motorhead, Metallica, Andrew W.K.
2006: Pantera, Megadeth, Iron Maiden, Yngwie Malsteem, John Petrucci
2007: Steve Vai, Joe Satriani, Pantera, Racer X, Marty Friedman
2008: The Donnas, Nicole Atkins, Ratatat, Paul Gilbert
Q. You like Yngwie? You know he sucks right!?
Don't like Yngwie? You must be pretty beast.
Q. Why do you only like metal?
Because metal is the best. Not really. Well, sort of. Here's some of my favorite non-metal artists:
Eminem
ABBA
Daft Punk
Michael Jackson
Elton John
Blondie
Frank Zappa
Sara Bareilles
Elvis
Snoop Dogg
Neil Diamond
Missy Elliot
I'll quit while I'm behind.
Q. Favorite Guitar Solo?
Alexi Laiho's off Children of Bodom's cover of Britney Spears' Oop I Did It Again. Class.